Hi friends!
Hope you all had a great Monday!  Ours was filled with the usual Monday fun lately.  Since we've had a few busy weekends, Monday's have been my day to catch up on errands and get the house organized for the week.  Yesterday was grocery shopping and laundry.  Which I still feel like I'm finishing up from our camping trip a few weeks ago!
We also found some down time for crafts and play.
This one is all about fall too and has been dying to make an owl of some sort 🙂  Takes after his mom with his love for fall.   Could be because Halloween happens in the fall too though…
It's supposed to be cooling down here this week but unfortunately it's so smoky outside that we have to stay indoors.  The Love Nugget's little lungs can't handle the smoke and actually it's so bad that they are recommending everyone limit their outdoor exposure!
Although it could be much worse.  While we are worried about not getting to go outdoors, there are hundreds of people who no longer have a home to go to due to fires.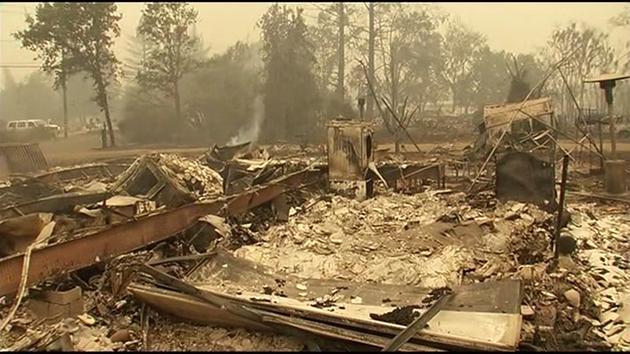 Home burned in the Valley Fire which has burned over 50,000 acres.  Image source
It's really quite devastating.
So even though we are annoyed by the smoke lingering in the air and maybe suffering with the air quality, it's nothing compared to what hundreds of Californians are going through right now.  My thoughts and prayers are with them!
My 4:30 class at Afterburn has been a little slow since school started again so The Love Nugget and I have taken the time to get in a workout together 🙂  Yesterday we did a few yoga moves for a little while before I did a little workout on my own.  30 seconds of work, 20 seconds of rest, 3 rounds each circuit with a 250 meter sprint in between circuits.  Good one!
He's been really into working out with me and I think has been especially enjoying it since he got his own yoga mat from Merrithew a few weeks ago.
I won a gift package at Blogfest from Merrithew that included some really awesome products.  
A fitness Circle that is a great light weight tool to use for pilates, barre or anything 🙂
A Folding Yoga Mat which I saw at Idea World and absolutely loved!  It's obviously great for traveling and is also very comfortable!
A Soft Foam Roller which is a favorite in our house.  I love rolling out my back and legs but sometimes are so sore the firm one we have hurts too much!  So this is great for those times.  Also, great to use for yoga and pilates.
Flex Massage Stick which hurts so good!  An awesome tool to use for large muscle groups to remove knots and alleviate pain.
Kids Eco Mat which I mentioned above The Love Nugget is obsessed with!  He loves rolling it out to join me in a workout or just to sit on and play.  It's biodegradable and 100% free of toxins, heavy metals and phthalates.
What's great is that Merrithew has offered to also give away one lucky reader the same package that I won!  Follow the steps below to enter and good luck!