Before kids, we used to go out on dates at least a few times a month.  Not always super fancy but dinner and a movie, drinks and some games, you know, the normal stuff couples do pre-kids.  Now that we have The Love Nugget it just doesn't happen as often as before. Which is okay, we live a different life now and wouldn't have it any other way.  However, continuing to have that husband and wife time is extremely important to us.  So we make an effort to have at home date nights a few times a month after we put The Love Nugget to bed.
Which we did the other night and enjoyed the most delicious dinner alfresco!
When planning an at home date night these days I head to Pinterest for ideas.  I also scout out what's on sale at my favorite grocery store, Whole Foods because they have the best date night foods.
Wild King Salmon to be exact.  One of my favorite fishes and it just happens to be in season right now.  When I saw this as well as my favorite summer fruit on sale a delicious idea popped into my head and I went for it.
We began by soaking the cedar planks which is definitely our favorite way to cook salmon.  Something about the smoked flavors with the salmon just work so well.  I knew i wanted to create a sauce to go over the salmon but wasn't sure how to use my cherries.  Then I remembered a salad I had made awhile back that incorporated grilled cherries and bingo!  Perfecto!  In this case it was cherries with balsamic cooked in my grill pan.  AND it was amazing!
Served along side a some garlic, olive oil grilled asparagus and bountiful chardonnay from South Africa that had just the right amount of citrus and oak to pair perfectly with the salmon.
A wonderful meal to enjoy as we sat outside and chatted about the days events.  A simple date and actually a fairly easy meal to prepare but an overall a perfect evening.
Ingredients
1 lb Fresh Wild King Salmon
1 tsp. sea salt
1 tsp. fresh ground pepper
1 cedar plank

Cherry Balsamic Sauce

2 cups pitted organic cherries
1 tbsp. olive or coconut oil
1 clove finely chopped garlic
1/4 of a small red onion finely chopped
1/4 cup balsamic vinegar
1 tbsp. raw honey
Instructions
Submerge cedar plank in water and soak for at least one hour.
Rinse and pat dry salmon.
Sprinkle with sea salt and pepper then set aside.
Heat a gril to medium, place salmon on the cedar plank then onto the grill over indirect heat. Close the lid and allow to cook for 20-30 minutes or until cooked through.
In the meantime, prepare the sauce.
Heat 1 tbsp. of oil in a grill pan or skillet over medium heat.
Add in onion and garlic, allow to sauté until softened.
Add cherries and continue cooking for about 5 minutes or until softened.
Pour in the balsamic and honey stirring then simmering for 5 minutes.
Remove from heat then serve over the grilled salmon.
(The salmon could also be cooked indoors on a grill pan, frying pan or even baked.)
http://myhealthyhappyhome.com/2014/07/30/home-date-night-cherry-balsamic-salmon/
Now head on over to Jenn's page for lots more yummy eats!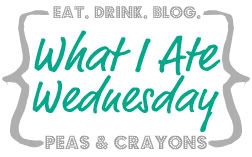 QUESTIONS – 
What's your favorite summer fruit?  
Do you have any creative ideas for cherry use?  
Are you a salmon fan or not?  
Disclaimer – I was provided a sampling of seasonal products from Whole Foods for this post.  I was not otherwise compensated and all opinions and ideas are my own.