Are you joining in the Paleo Challenge?  If so how's it going?  We are just a few short days away from it ending!  Did it go by fast for you?  I've been really good at continuing to eat only Paleo friendly foods but not so great at avoiding alcohol and paleo treats which was a big goal for me.  It's so hard during the summer when a nice refreshing glass of wine or bowl of banana frozen yogurt is calling my name!
If you missed this round you are more than welcome to go back and use the weekly meal plan and grocery list to try your own Paleo Challenge.
If you're already signed up and doing well then you'll want to keep reading.  I'll be announcing another great Paleo Challenge prize at the end of this post.  But first, let's talk about WIAW!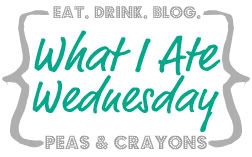 Well really it's Tuesday's eats but it's all the same right???
I've been making a habit of starting my day with a shot of water, lemon juice and apple cider vinegar.
It's horrible but as I've mentioned before, there are so many wonderful health benefits to drinking the stuff so I choke it down.  My trick that seems to help is to pound it, then before taking a breath chug as much water as possible.  That seems to help.  A little 🙂
After publishing my daily post, reading a few blogs and returning some emails I brewed a cup of coffee and sipped that while The Love Nugget ate his breakfast.  Then I figured I should eat something too so ate half a grapefruit and some raw cashews.
As I mentioned the other day I'm really trying to make more of an effort to walk daily.  Since its been over 100 degrees well into the evening we have to do so early in the morning.
We don't usually have a ton of time in the mornings so we went out for a short stroll before heading to the gym.
Today's workout was tough for me for some reason.  Mainly the toes to bar.  I hate anything on the bar because I have such sissy hands!  A few weeks ago I got my first tear and it's still healing 🙁
The Love Nugget got to play with the owners French Bulldog after the workout.  He loves him 🙂
Then it was off to the library!  ON the way there I at my post workout meal or second breakfast,
Left over grilled chicken, sweet potato fries and broccoli.
After checking out some books we headed to the Fountains to meet up with friends for water play and lunch at Whole Foods.
There are actually other restaurants in the Fountains shopping center but The Love Nugget is obsessed with Whole Foods.  Can you blame him?
I had a salad but forgot to snap a picture so instead I'll share yesterdays yummy lunch,
The Love Nugget and I both have been loving these yummy little tuna boats as he calls them.  Easy to make in advance and have in the fridge for a quick lunch or simple, protein packed snack.
Ingredients
6-8 hard boiled eggs
1 can of poll troll caught sustainable tuna in water. (Wild Planet is my favorite)
2 tbsp. Paleo Mayo
2 tbsp. Dijon Mustard
2 tbsp. finely chopped fresh dill
1/2 avocado
1/2 tsp. garlic powder
1 tsp. sea salt
1/2 tsp. pepper
sprinkle of paprika
Instructions
Cut and remove the yolk from the eggs.
Place yolks into a medium bowl and mash.
Add in the remaining ingredients (except the paprika) and mix well.
Scoop into each egg white then sprinkle with paprika.
You will probably have left over tuna which can be enjoyed on it's own 🙂
http://myhealthyhappyhome.com/2014/07/16/paleo-challenge-prize-announcement/
After lunch we headed home to rest and start packing.   Leaving Thursday morning for a wedding in San Diego and still haven't decided what I'm going to wear… Ugh, this is where that extra weight frustrates me!  Plus I now have some lovely matching Power Clean bruises on my collar bone.
Gotta love Crossfit wounds!
Around 3:00 while blogging I got hungry and remembered I had been meaning to make The Hubby some more Chocolate Chip Cookie Bites.  So I whipped up a small batch and munched on some of the mixture as I stuffed them into the molds.  Then ate some carrot sticks and sun butter.
Around 5:00 we got ready to head downtown to meet up with The Hubby and some friends for a night at the Train Museum.  On the way there I enjoyed one of my favorite Paleo friendly snacks.
Kit's Organic Fruit and Seed bars are perfect if you are on the go or in a bind.  They are made with only seeds and fruit so if you or someone in your family suffers from nut allergies these are a great bar to have on hand.
My personal favorite is the Lemon, vanilla and chia seed which contains only Organic Dates, Organic Pumpkin Seeds, Organic Chia Seeds, Organic Lemon Juice Concentrate, Organic Apples, Sea Salt, Organic Vanilla Beans, Organic Rosemary Extract, Organic Lemon Oil.  All natural, organic and Paleo friendly!
Which is why I chose to offer them up as a prize for Paleo Challenge.  Even though if choosing to live the Paleo lifestyle you should try to avoid processed foods these are a great snack to have when your on the go or in a bind.  I keep them in my purse and car for myself and The Love Nugget.  Who stole some of mine yesterday of course 🙂
We met our friends at Chevy's on the river which I hadn't been to in years.  I've actually never really been a fan of Chevy's besides their chips and salsa but this was close to the museum and we got to sit on the patio where the boys could see the boats.
We had the worst service ever and my food was horrible but it was nice to relax with friends 🙂
I asked for steamed veggies and got oil soaked grilled with fish tacos sans tortillas and cheese.  Not good and left me feeling sick 🙁
After we headed to the train museum for a Night at the Museum!
The kids had such a blast running around checking out all the trains and participating in the activities.
Such a fun night!
QUESTIONS –
Have you tried Kit's Organic Fruit and Seed Bars before?   
Tuna and eggs, yay or nay?  
Are you a fan of museums?