I try to eat as minimal processed foods as possible but sometimes I just need something quick and easy.  Finding foods that are clean, organic, have minimal ingredients and are paleo friendly can be a little complicated.
Luckily there are some wonderful companies like RxBar that food should be made with quality ingredients and consumed as nature intended it to be.
RxBar's contain no more than 8 ingredients all of which are 100% Paleo and all natural.  They contain no grains, added sugars, gluten, soy, dairy, or any artificial or processed ingredients.  They use Non-Gmo egg white protein to give their bars added protein to help get you through your day.
Along with the egg white protein their ingredients include Dates, Figs, Almonds, Coconut Oil, coconut, Cocoa, and/or blueberries.
I must say I really enjoyed the figs in these bars!  I love dried figs in general and they seemed to balance out the sugar content of the bars perfectly.  Some bars that use dates can be a bit too sweet in my opinion but not these ones!
Being a chocolate lover, I thought the Coconut Cocoa would be my favorite.
Then I tried the blueberry and wow!  Loved it!
So did The Love Nugget which meant I only got in a few bites before he was demanding more, then more, then the rest of the bar.  Little moocher!
Truly such a clean, healthy snack that I'll definitely be purchasing them in the future!  Not only are they great bars, but an awesome company as well.  So awesome that they've offered to send TWO lucky readers sample packs with their Paleo friendly RxBars.
Just follow the instructions in the Rafflecopter below.
Until then, here's a look at the rest of my eats from yesterday!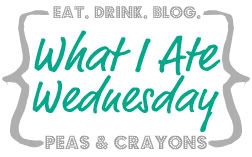 6:00 am apple cider, water and lemon juice shot,
Blah!  Followed by 8 ounces of water.
Coffee with coconut milk and maca powder, some broccoli, cauliflower, ground beef and an egg with a few slices of a peach.
What a horrible picture!
As I cleaned up and packed up snacks I munched on a few raw nuts because I'm pretty much addicted.
Enjoyed a Blueberry RxBar shared with The Love Nugget around 10:30
Super easy but delicious lunch,
That one little man devoured as well!
Ingredients
1 can wild caught salmon
2 tbsp. Paleo mayo
1 tbsp. Coocnut Aminos
2 chopped green onions
1/2 avocado
1 tsp. garlic powder
1/2 tsp. sea salt
1/2 tsp. pepper
2 - 3 nori seaweed sheets
Instructions
Combine all ingredients in a small bowl mixing well.
Spread onto a seaweed sheet and roll from end to end wetting the closing end with a little bit of water.
Cut with a very sharp serated knife and top with a sprinkle of coconut amines.
Enjoy!
http://myhealthyhappyhome.com/2014/07/09/paleo-snacks-rx-bars/
Snack around 4:00 of some apple slices and sun butter.
Dinner was Bang Bang shimp with cauliflower fried rice.
I pretty much followed this recipe or the bang bang shrimp but skipped the chili paste as we don't like spicy and added some Coconut Aminos and Red Boat fish sauce.    It was delicious and after how much The Love Nugget ate I thought he was going to throw up shrimp in his sleep!  Luckily he didn't and still managed to chow down on some watermelon with us a little later.  How can you resist fresh watermelon in the summer!?!
Don't forget if you're following along with the Paleo Challenge to check off how you're doing on the spreadsheet!  If you're still having trouble accessing it please let me know and I'll check you off 🙂 I'll begin announcing prizes soon!
Giveaway open to U.S. residents only.
Disclaimer – I was provided a sample pack of RxBars for this review.  I was not otherwise compensated and all opinions are my own.