Good morning! Guess what!?!
I've got another yummy recipe for you today!  Two in one week is crazy for me right??? I'm sure your not complaining too much based on yesterdays response to those pancakes 🙂
Thank you by the way!  Hope you all make them and enjoy them as much as we did!  I'll get to that recipe in just a minute but first let me thank the WIAW hostess for throwing another lovely shin dig.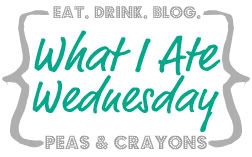 Thanks Jenn!
Now, let's get started on my eats from yesterday shall we?
We were running a bit late yesterday morning as The Love Nugget woke slept in a bit and I lost track of time.  So after making his breakfast I didn't have much time left to make mine but luckily had a few hard boiled eggs and Canadian bacon on hand to scarf down before running out the door to Crossfit.
That along with a cup of coffee and a plum.
Again since I was late I didn't have time to grab my sweet potatoes so after Crossfit I drank an About Time Protein packet mixed with coconut water.
Replenishing some lost electrolytes and protein! While The Love Nugget and I ran some errands, we shared a large, organic Fuji apple.
Love those things! A while later is was home for lunch which for me was some turkey breast and avocado wrapped in a Paleo Coconut Wrap along with some leftover Paleo Potato salad.  Recipe to come on this one as well!
I ate another plum after lunch because we have a million of them right now!
We recently had a landscaper come clean up our backyard which was literally a jungle.  We discovered we have a very large plum tree with LOTS of plums.  So The Love Nugget and I picked a bunch yesterday.
Don't mind my pantless child.  That seems to be the trend around here lately.  Pants optional! At least for him 🙂
A few hours later I enjoyed a few of these bad boys.
Banana Nut Muffin Protein Bites
These taste just like a banana nut muffin!
Banana Nut Muffin Protein Bites
Ingredients
1 package or scoop of About Time Banana Protein powder
1 cup + 1/4 cup raw walnuts
5 large medjool dates
1 tsp. vanilla
1/4 cup almond butter
1 1/2 tsp. + 1/2 tsp. cinnamon
1/4 tsp. sea salt
1 - 2 tbsp. coconut nectar or honey
Instructions
Place 1 cup of walnuts and dates in a food processor and pulse until chopped finely.
Add the vanilla, 1 1/2 tsp. cinnamon, coconut nectar and sea salt
Pulse until a sticky wet mixture forms. If not we enough add a little more coconut nectar or honey.
Form into bite size balls and set aside.
Meanwhile place 1/4 cup walnuts and 1/2 tsp. cinnamon into food processor and pulse until finely chopped.
Transfer to a bowl and roll protein bites in walnut, cinnamon crumble gently pressing into the ball.
Store in an airtight container in the fridge for up to 2 weeks.
Enjoy!
http://myhealthyhappyhome.com/2014/06/18/wiaw-banana-nut-muffin-protein-bites/
Last night was The Love Nugget's first T-Ball practice.
He was so excited to go play baseball and even more excited since two of his buddies are on his team too!
It's just the basics at this age.  Catching, throwing, etc. but it's so cute to watch!
We came home and I finished up dinner which was Against All Grain's Thai Crunch Salad.
Light, refreshing, and delicious!
We also enjoyed copious amounts of watermelon because that what you do during the summer right!?!
 QUESTIONS – 
What was one yummy thing you ate yesterday?  
If you have kids, when did they start playing on sports teams?  
Any recipe suggestions for all these plums!