If you caught yesterdays post you saw that I've been adding a little more grass-fed beef into my diet lately.   If you know me well you know this is a big change for me.  Up until a few months ago, it had been well over 10 years since I had eaten any beef.  Mainly because I just never really loved the taste of it.  However, as I've gotten older and especially since I've adapted a mainly Paleo lifestyle, my tastes have changed.  I've grown bored with chicken and have been experimenting with different sources of animal protein.  Mainly grass-fed beef, grass-fed bison and a little pork here and there.
I've had a few bites of The Hubby's steak when he's ordered one at a restaurant but am still not sure I can handle the taste.  Yet… When I make ground beef I mix it with turkey or bison to cut the strong beef taste.  I know, I'm weird!
However, when we were at the farmers market last weekend we stopped by a local livestock stand called Coffee Pot Ranch.
Bob, the owner, was extremely informative and told us all about how his cows, chicken, lambs, and pigs are raised sustainable.  This quote taken from eatlocalgrown is a great example of their passion for producing quality food.
We see ourselves as true livestock people using the best of the animal husbandry practices that does not rely on antibiotics or artificial growth enhancers. We believe that our animals achieve their maximum potential with less stress, sound nutrition and a healthy environment. Mother Nature will sometimes test the latter, but that keeps us constantly working toward improving the ranch.
We were so impressed with the quality meet they were producing we decided to pick up a package of grass-fed beef stew meat.  This was a big step for me.  Chunks of actual beef in my meal!  I was nervous and excited to try it.
Ingredients
1 lb. Grass-fed stew meat
4 celery stalks
3 carrots, peeled
2 rutabagas, peeled
4-5 mushrooms
1 small onion
2 cloves garlic
2 white sweet potatoes (or 1 large)
4 cups organic beef broth (I didn't have any so used chicken and it was great!)
1 can diced tomatoes
1 tbsp. tomato paste
1 tbsp. dried basil
1 tbsp. oregano
1 tsp. dried rosemary
1/2 tsp. dried thyme
1 - 2 tsp. sea salt
1 tsp. cracked pepper
Instructions
Dice the beef into bite size pieces of not already done for you.
Place the beef into the crockpot.
Dice all the veggies and place into the crockpot on top of the beef.
In a bowl, whisk together broth, diced tomatoes, tomato paste and all the seasonings.
Pour over the veggie/beef mixture and cover.
Cook on low for 7-8 hours or high for 5-6 hours. You can't really overcook it but the veggies will become softer the longer you let it cook.
http://myhealthyhappyhome.com/2014/01/22/wiaw-grass-fed-beef-stew/
Luckily, it was a success and everyone loved it!
Perfect for these cold winter evenings we've been having lately!
Now, go check out Jenn and the gang for more yummy meal ideas!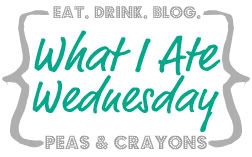 Questions – 
Have you ever added anything back into your diet after a long period of time and liked it?  
Is there a certain food you don't like but wish you did?  
If you've eaten conventional beef and grass-fed beef do you taste a difference? 
Disclaimer – I did not receive any products or payment for this review.  All thoughts and opinions are my own 🙂