Morning friends!
I'm two days into the Whole30 and feeling good!
So far it's not too bad since it's not that far off from how I was already eating bu yesterday was a little tough.  I had a super early appointment then a lunch at a local farm hosted by Placer Grown and a later than usual outing for The Hubby's flag football game.  I stayed strong and skipped on the wine, bread, dressing and fresh local feta cheese but that left me with a plate of arugula, a few pomegranates and pear slices.  Hmmm… needless to say I was a little hungry when we got home but luckily I had prepped a ton of Whole30 foods on Sunday so some quick, pre-mixed tuna salad was a lifesaver!
Speaking of Sunday food prep, I hear a lot of people who have completed the Whole30 saying meal planning and food prep was key to their success. Since I've had a lot of interest in how things are going and just an overall interest in the Whole30, I thought I'd share with you all that I prepped for the week.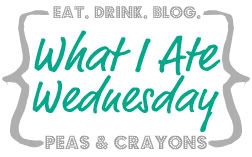 So not really a What I Ate Wednesday but What I Food Prepped Sunday 🙂 Still, since it's food related, I'm linking up with Jenn at Pea's and Crayons.
In case you missed it, Sunday I posted my meal plan for the week. I made sure to plan for every meal and a few snacks if needed. Although you're encouraged not to snack in between meals and I'll be trying not to, I also know I'm a snacker so making sure to have some healthy, Whole30 approved things on hand should help.
Sunday after brunch I headed to the grocery store with The Nugget.
I already had some supplies needed for the week at home so this weeks list wasn't too big.  Between a few things at Whole Foods, a few at The Fresh Market and a cart full at Sprouts I spent just under $100.
Once home, I got started on prep!   Luckily The Love Nugget napped for a LONG time so I was able to have a good amount of quiet time. I started by roasting veggies and making a breakfast casserole for The Hubby.
While those baked I boiled eggs, chopped veggies, washed kale, made tuna salad, Paleo avocado hummus, turkey apple sausage patties and shredded carrots, cabbage and broccoli stems.
It took about 2 1/2 hours from start to finish, including cleaning up.  Which in my opinion is the worst part!
Speaking of shredded veggies I'm slightly obsessed lately and wanted to share how easy they are to make.
First, I took the broccoil stems and cut thme away from the crowns.
Than I peel off the outer, fibrous skin that is a little tough to chew.
Then put them through the grater attachment in a food processor along with 1/2 a head of cabbage and three or four large carrots.  I store this in a large zip lock back then saute with coconut oil when ready to eat.
The other night a also mixed in a little coconut aminos and enjoyed this slaw under this delicious, simple and clean Mahi Mahi recipe,
Coconut Macadamia Mahi Mahi
Ingredients
1/2 lb Mahi Mahi fillets
1 egg
1 tbsp. canned whole fat coconut milk
1/2 cup unsweetened shredded coconut
1/2 cup chopped toasted unsalted macadamia nuts
1 tsp. melted coconut oil
sea salt and pepper
Instructions
Preheat oven to 350 degrees and line a baking sheet with foil. Brush the coconut oil over the foil to avoid sticking.
Whisk egg and coconut milk in a medium shallow dish or bowl.
In a separate dish, mix together unsweetened shredded coconut and chopped macadamia nuts.
After rinsing the fish, lightly pat dry and season with salt and pepper.
Dip the fish into the egg mixture then into the coconut, macadamia mixture.
Press the coconut mixture into the fix so that it sticks well.
Place coated fish onto prepared baking sheet and cook for 25-30 minutes or until the fish is flaky and the coconut is toasted a lightly golden brown.
Enjoy!
http://myhealthyhappyhome.com/2013/10/02/wiaw-whole30-meal-prepping-addition/
It was actually a super quick meal since all I had to do was prep the fish, bake and saute the veggies.  So good!
QUESTIONS – 
Do you meal prep on Sunday's?  If so, how long does it typically take?  
Do you spend about the same amount on groceries weekly or is every week different?