Good morning!
Lately I've been feeling so far behind with reading blogs, commenting, and responding to emails.  So I'm sort of taking today off by posting a mostly wordless Wednesday so I can hopefully catch up on some reading!
Enjoy some pics and a few words from yesterday 🙂
Okay, this stuff needs a few more words of explanation.  I have been looking for a good protein powder that is made from grass-fed whey to incorporate into my diet and have heard good things about Jay Robb.  So I inquired about it and about a month ago Jay Robb sent me a box full of yummy protein bars, egg white protein powder and Grass-fed Whey protein powder to try out.
When the package came we had just got home from running errands and The Hubby and I were both hungry.  So we broke into one of the protein bars and was happy we did.  So creamy, flavorful and without Gluten, wheat, Soy, MSG, hydrogenated oils, transfats, artificial sweeteners, acesulfame-K, aspartame, sucralose, splenda, casein, glycerine or maltitol.
The protein powders have been used in smoothies, oats (as pictured above), banana froyo and breakfast cookies for the hubby.
made with 100% rBGH-Free Why Protein isolate
Sourced from grass fed cows not treated with rBGH (Recombinant Bovine Growth Hormone)
25 grams of protein per serving!
Lactose free
Gluten-free ingredients
No fat, No cholesterol
No sugar, No aspartame
No artificial colors, flavors or sweeteners
No casein, No msg
Made with stevia
While we really enjoyed the protein bars, the protein powder was a little too grainy for our liking.  Well, the Whey wasn't as much so as the egg white and while I didn't mind it as much, The Hubby wasn't really a fan.  When mixed into a smoothie or oatmeal you didn't notice it but if you drank it with just water or milk (as the hubby does), you definitely noticed the texture.
24 grams of protein per serving!
Lactose Free
Mixes with a blender or shaker bottle
No fat, No cholesterol
No sugar, No aspartame
No artificial colors, flavors or sweeteners
No casein, msg or gluten
Made with stevia
I would definitely purchase these for smoothies and like that they sell them in small packets which are easy to travel with and take up less storage space.  Plus they have some pretty good flavors that were a lot of fun to experiment with!
Foam rolling before boot camp
Bubble popping during snack
Cinnamon apple granola
Picnic lunch in our backyard
Best buds 🙂
Almost got it down!
Work and play
Crafting fun!
Letter A collage
Afternoon walk and park play
Mommy wine time!
Even though there's not a lot of pictures with what I ate, I'm joining in with Jen for What I Ate Wednesday!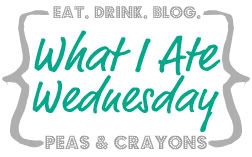 QUESTIONS – 
Have you tried Jay Robb protein products before?  
Do you have a favorite clean protein powder right now? 
Do you ever feel like your drowning with responding to messages and catching up on blog reading?