Good morning and happy Humpday!  I'm pretty sure I say that almost every Wednesday but who doesn't get excited when Wednesday rolls around and the weekend is within reach!?!
Yesterday was a fairly busy day for us but a fun one with some yummy eats so I'm linking up with the lovely Jen and her new little peanut for What I Ate Wednesday!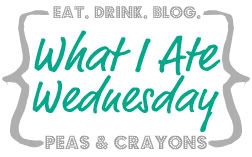 I woke up early and got in an at home workout before The Love Nugget got up since I wanted to take him to the Library instead of the gym.  We usually go to boot camp but have gymnastics on Tuesday's now which means we only have an hour to rush home, shower, then rush back out for gymnastics.  I'm glad I made the choice to get my workout done because it was nice not to have to rush and to actually get ready for a change.
After my workout I enjoyed a cup of coffee with a little Vega Nutritional Shake added to it.
It tastes delicious and is actually somewhat filling!  It held me over until about 8:00 when I ate an even more filling and substantial breakfast.
Kabocha squash, zucchini, a slice of turkey bacon, spinach sautéed then topped with an egg cooked in coconut oil.  I was stuffed!
We finished getting ready we headed off to Mother Goose on the Loose at the library which is a story, music and activity time.  The Love Nugget likes it since they usually read at least two books and he loves to listen to stories!
We had an hour to kill between that and gymnastics so we stopped by the farmers market then popped into Whole Foods for a Kevita.
They were sampling these bananas and after trying them we bought a bag.  Nothing added to them just dehydrated bananas!  They almost taste a little like banana bread and a certain little man LOVED them!  I snacked on a few of those as well as a few raw cashews as we drove to gymnastics.
We bought a Groupon for this particular gymnastics class and I'm so glad I only spent $25 for the month.  It is not the best around and the kids basically just run around and play for 45 minutes.  Needless to say we will not be staying and will be heading back to the gymnastics we went to before and loved!
Anyway, we came home and ate lunch before The Love Nugget went down for his nap.
I had made tuna salad to have for lunch today but little man pretty much gobbled the whole bowl!  So I whipped up myself a salad instead.
In the mix, organic spinach, Applegate turkey breast, mushrooms, cucumbers, half a slice of turkey bacon, a hard-boiled egg and tomatoes all topped with fresh lemon and avocado oil.  Delicious!  After a munched on a few frozen grapes to satisfy my sweet tooth.
While The Nugget napped I worked on putting away this…
Endless pile of laundry!  Ugh!  I managed to get it all done just as it was time for us to leave to go meet some friends at The Fountains.  The Love Nugget was still sleeping and was not a happy boy…
The first picture you can see just how grumpy he was.  The second was taken about 2 minutes after the grumpy look when I offered him some LARABAR.  Little stinker!
Speaking of that LARABAR, I had a few bites of it as well along with some Seaweed snacks,
After the train we went and got froyo but I wasn't in the mood (shocking!!) but this little guy wasn't passing it up!
We got home and while The Hubby and Nugget played outside in the sandbox, I got to work on dinner.
Gingered Carrots and Mahi Mahi over sautéed spinach from Everyday Paleo.  So good!  While making dinner I drank a unpictured glass of Sauvignon blanc and munched on a few carrot sticks.
After dinner we went for a walk since the temperatures were much cooler than they have been.  There was even a nice little breeze which made it feel even more like Fall!
A little later I enjoyed one of these delicious Orange Sunbutter Truffles that are so good!
Dark chocolate on the outside with a smooth, orange flavored filling on the inside.  Oh and their gluten-free, sugar-free and nut-free!
Orange Sunbutter Truffles
Ingredients
1 cup Coconut flour
1/3 cup unsweetened applesauce
1/3 cup freshly squeezed orange juice
1/4 cup sunbutter
1 tsp. vanilla
7-8 tsp. NuNaturals Orange Flavored Stevia
1 tsp. grated orange rind
1/3 cup Enjoy Life mini Chocolate chips
1 tsp. Coconut oil
Instructions
Combine all ingredients except chocolate chips and coconut oil in a food processor or medium bowl.
Mix until a wet sticky mixture forms.
Roll into small balls and place in the freezer for at least 30 minutes.
Then, melt chocolate chips and coconut oil in the microwave on a low heat or defrost setting. Stir frequently.
Take out chilled truffle balls and dip into melted chocolate then place on a parchment lined tray.
Place back into the freezer or fridge to set up. Store in an airtight container in the fridge for up to two weeks. Enjoy!
http://myhealthyhappyhome.com/2013/09/11/wiaw-11/
A few weeks ago I was sent a wonderful package from NuNaturals  
I've been having a blast experimenting with some of the different products included.  Loving them all especially the coconut sugar!  In this particular truffle recipe I used the orange flavored stevia and was pleasantly surprised with the orange sweetness it added.
There are tons of Stevia products on the market these days and unfortunately they are not all the same.  Some are adding unneeded chemicals such as sugar alcohols which some people have major sensitivities to.   NuNaturals ingredients are all natural plant extracts and contain no MSG, Soy, Milk, synthetics, artificial colors or flavors, no saccharin, aspartame, sucralose or artificial sweeteners.  While I don't use artificial sweeteners all that often, if I do, I opt for as natural of a Stevia as possible.  NuNaturals is definitely very close and has a great taste.  None of the chemical aftertaste I've experienced with some other brands.
I haven't had a chance to try some of their baking sugar substitutes yet like the LoSweet Pure Lo Han Guo Extract.  Since it's 300 times sweeter than sugar only 2/3 of a teaspoon is needed to equal a cup of sugar!  It's perfect for mixing up large batches of drink recipes like mojitos or margaritas!   The Tagatose is a new to me product as well and sounds very interesting!  It is safe for diabetics since it doesn't raise blood sugar levels and is a prebiotic making it good for digestive systems.  It's great to use for baking cakes and cookies and with no calories is a good substitute to use when trying to lose weight.
Questions – 
Have you tried seaweed snacks?  If so, do you like them?  
Are you a fan of Stevia?   Which brand is your favorite?