I think comparison is something that is almost ingrained in women.  At some point or another I'm sure we've all been guilty of comparing our clothes, house, life, etc. to someone else.  We may all try not to but it happens and actually, I'm sure men do it to just not as often.
Since becoming hooked on the blog world I've definitely fallen into the food comparison trap from time to time.  It's an easy thing to do when you read so many blogs that share amazing photos of delicious looking meals and recipes.
 Peanut Butter Chocolate Chip cookies with Sea Salt from Ambitious Kitchen, Thin Mint Pancakes from Kiss My Broccoli and Cherry Almond Crisp from Iowa Girl Eats
I've found myself thinking, "She ate all that in one day and looks amazing!  Surely I can eat that much too…"  or, "They only at three meals? No snacks?  Maybe I should cut out my snacking…"  and sometimes, "Well if they can eat that much nut butter why can't I?"
One of my favorites, Roasted Almond Coconut Butter!
I'm sure we are all a little guilty of comparing our meals to others whether we like to admit it or not.  However, in the past few year of blogging I've learned to think about that wise old saying from my childhood about jumping off bridges while reading other blogs
Focus on what works for you rather than on what others are eating.    This has definitely taken me some time as I don't think I truly knew and understood my body until just recently. I've come to understand what works for someone else is not necessarily what works for me.
Roasted Kabocha Squash that I see lot's of bloggers eating like it's going out of style!  I LOVE it but have learned that if I eat too much of it, I start to pack on extra pounds.  So I still eat it, just in moderation 🙂 
Looks can be deceiving.  A plate full of food can be a completely different size than it looks in a picture.  What might look like a huge portion, may very well be much smaller than it seems.
I love to enjoy my smoothies thick and creamy out of a bowl as a full meal.  I was surprised the other day when I poured my smoothie bowl into a glass since it was a little runnier than normal, by just how little was actually in the bowl!  It didn't even fill up one of our smallest water glasses.  
We all need a different amount of calories based on our daily activities etc.  If you're just joining in to my blog for the first time, you might look at my daily eats and think, "Wow, she ate a ton!" or "She hardly ate anything today."  Some days I might eat more if I've had an intense calorie burning workout and some days I might eat less if I'm resting and not getting in any exercise.  However, you wouldn't know this from reading just one post.
Breakfast after my morning workout of an egg cooked in two avocado slices on top of a tomato with a Chicken and Waffle sausage patty (strange but good!), a cup off fresh fruit and a Kombucha Mimosa 🙂 
Many of us have some sort of a story.  While I might compare from time to time, I never judge anyone's food habits because I know that we all have different reasons for eating the way we do.  Someone might be recovering from an eating disorder, maybe one is trying to gain weight for their health, or maybe your eating habits are different based on your culture.
Apple Pie Breakfast Scramble.  A favorite protein packed breakfast when I'm craving something sweet but need to get in my protein!
We're all different ages, shapes, sizes etc.  Guess what folks, I'm 31!  Wait… Just kidding 32!  Sheesh!  You know you're getting old when you don't remember your age right!?!  Point is, there are TONS of Healthy Living, fitness, food and drink blogs out there with a large majority being younger age bloggers.  Nothing wrong with this but I've learned that my metabolism is much different today than it was when I was 25.  Due to that I might not be able to eat some of, (or as much of) the same things that some of these younger bloggers do. 
There was a time when I could drink beer all afternoon and well into the evening and feel just fine!  Nowadays after just one beer I usually feel like the Stay Puft Marshmallow man!  While I do still enjoy beer from time to time, I limit my intake to one, maybe two and drink tons of water with it.
Finally, no one is perfect. Yes, I love veggies, fruits and healthy foods.  But if you read my blog on a daily basis, you know that I love wine, frozen yogurt, and chocolate.  You might not see me posting that I eat these things all that often but I do!
Crispy Chocolate Peanut Butter Vegan Fudge.  I can't even describe how amazing this is and I'm not sure why I only make it during the Holidays!  
I'm linking up with Jenn and Pea's and Crayons for WIAW where more than a hundred other bloggers are sharing delicious meals and recipes for today!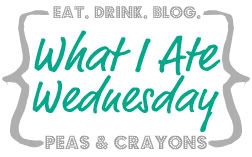 In case you haven't had a chance to already, make sure and enter my giveaway for a tin of ENERGYbits!   
QUESTIONS – 
Do you ever find yourself falling into the comparison trap?  
How do you avoid it? 
Want more of My Healthy Happy Home?
Follow me on,
and on Bloglovin