Good morning!
First things first.  Time to announce the winner of my Wing Nut giveaway!
Congrats Erin Kenny!  Email me your information when you have a chance 🙂
Second, time to let you know the answers to my "Two Truths and a Lie" game that I posted as a Vlog the other day.  Most of you guessed that statement number two was the fib but actually it's true!  As was number three which means number one was the lie.  Let me explain…
I ALMOST started a job as a Kirby vacuum saleswoman but within the first few minutes of the orientation, I knew it wasn't the job for me.  My first job was actually as a second secretary for a criminal defense law office.  It was very interesting to say the least!  Number two was true but… they weren't really dangerous sharks that I swam with, just Nurse sharks which really can't do any harm.  Number three is sadly true.  I have never been to Disneyland but… I did go to Disney World so my Hubby said that doesn't count 🙂  Thanks for those who played along!
Okay, with it being Wednesday and all, I'll be linking up with Jenn at Pea's and Crayons for WIAW!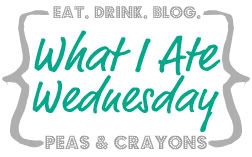 I'm still doing good with my apple cider vinegar and start my day with about 2 tbsp. mixed with water.  Still doesn't taste great but it's good for me!
It's always followed by a cup of coffee of course 🙂
I was in the mood for something sweet for breakfast but knew I needed protein to get me through my morning.  So I made this tasty recipe that is always so good!

Sweet Cinnamon Egg Scramble
Ingredients
1/2 mashed banana
1 tsp. coconut oil
1/2 - 1 cup chopped spinach
1 egg + 1 egg white
2 tbsp. coconut milk
1 tsp. cinnamon
Toppings of choice
Instructions
Heat coconut oil in a medium skillet
Add in spinach and mashed banana
Cook stirring frequently until spinach is wilted
In a bowl, whisk together egg, egg white, coconut milk and cinnamon
Pour egg mixture into the pan with the banana and spinach. Cook stirring and scraping sides for about 2-3 minutes or until done.
Top with your berries, nut butter, coconut butter or even syrup if you please!
http://myhealthyhappyhome.com/2013/07/31/wiaw-my-version-of-nuttzo/
Of course The Love Nugget enjoyed some of my breakfast along with his as well.  Little stinker always wants what we're eating.  Well.. unless it's veggies!
We took a quick walk then headed to the gym then to the Fountains for the farmer's market and train rides.
My little baby is getting so grown up!  Crazy how all the sudden he has turned into a such a little boy!
While we were out and about The Love Nugget and I shared an apple, coconut water and this new to me bar,
Good stuff!
Lunch was a left over turkey burger on top of an heirloom tomato with carrots and my Paleo Avocado Hummus,
While the Love Nugget napped I made a batch of this SUPER yummy nut and seed butter,

Mixed Nut and Seed Butter
Ingredients
1 cup raw almonds
1 cup raw pecans
1/2 cup raw macadamia
1/2 cup raw (or roasted but unsalted) sunflower seeds
1 tbsp. flaxseeds
1 tbsp. chia seeds
flavoring optional -
1 tsp. vanilla
1/4 tsp. cinnamon
2 tsp. 100% pure maple syrup
Instructions
In a food processor, puree almonds, pecans, macadamias and sunflowers until blended but not yet too smooth. I just leave my food processor running for a few minutes and stop it periodically to scrape down the sides.
Add in the remaining ingredients and continue processing for several more minutes. The time is going to depend on your nuts, and your equipment so it could be 5 more minutes or it could be 20. Be patient and eventually you will have a smooth, creamy, delicious, mixed nut and seed butter!
http://myhealthyhappyhome.com/2013/07/31/wiaw-my-version-of-nuttzo/
Of course while I blended I had to taste test as I went along 🙂
I highly recommend making this.  It's easy, packed with nutrients, healthy fats and it's delicious!
The Love Nugget and I headed to a play date after he woke up at a friend's house.  While the kids played the moms chatted, snacked and sipped 🙂
I wasn't feeling all too hot so munched on some watermelon and a few crackers with goat cheese.  Despite an upset tummy, it was nice to get visit with friends and The Love Nugget of course had a blast!
I wasn't in much of a mood to make dinner so I had a smoothie while The Hubby had leftovers.  Since you've seen lots of my smoothie pictures I'll share a few from dinner Monday night which was REALLY good!
Citrus roasted Chicken with cauliflower mashed potatoes and some sautéed spinach.
So good and so easy!  I don't make roasted chicken enough for how simple it really is.  Plus, it's always well over two meals for us and if I'm motivated, chicken broth too!
QUESTIONS – 
Was your guess for "Two Truths and a Lie" correct? 

Have you ever made your own nut butter?  
Do you make more than one meal out of roasted chicken?