First off, Happy Birthday to my amazing husband!
We are planning to go to dinner with some friends tonight and enjoy a nice relaxing few days home after that.  Funny how birthday celebrations get so much less of a big hurrah the older you get 🙂
Since I've returned from my Portland trip, The Love Nugget has been giving me a run for my money!  It's like all the sudden he is this  rebellious little boy who doesn't want to listen, throws fits, doesn't want to nap and is just all around wild!  Guess my welcome home gift is a sneak peak into the terrible twos!  Yay for me!
Anyways, yesterday was one of those days where I wanted to pull my hair out.  He's been a pretty great toddler up until this point so this is a new adjustment for me.  On top of him being a little monster, we're pretty much stuck indoors since the temps are above 100 degrees all week.  We tried the pool/kids water play place yesterday with friends but he dislikes having wet clothes so he just kept stripping down to his birthday suit.  Doesn't really work when you're in public.  Fun times!
Well, enough about my toddler woes, let's get to what you're really here for today.  WIAW!!!!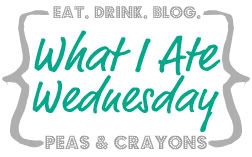 Today's a good one too as I've got a new to me granola to share as well as a cool treat for hot summer days.
Breakfast began with coffee as usual but I enjoyed some of the Stumptown coffee I picked up while in Portland.
My plan was to make iced coffee with it but I just couldn't wait to enjoy it!
After the Love Nugget woke up, I whipped us both up a yummy smoothie and topped mine with that new to me product I mentioned.
That granola sprinkled on top is oh so good!  I heard about Hudson Henry Granola through another blogger and knew I had to give it a try.

I contacted Hope and was pleasantly surprised by her kindness and generosity.  She sent me both flavors of their homemade granola to try out and I've been addicted ever since opening the bags.  So good!  Not only is the granola amazing, but I'm in love with their story.  You can read more about it here but basically after moving from city to city and opportunity arose for them to move to a farm which included a commercial kitchen!  So began Hudson Henry Bakery, named after their sons, Henry and Hudson 🙂
Each batch of our Good News Granola is made from scratch, baked in small batches and sent to you with love.  There is goodness inside the bag and "wisdom outside"…good news on the back of each bag to start your day.  
Wonderful words of wisdom to motivate you as you enjoy the delicious flavors baked into their granola.
Though they currently only have two flavors, they sure do pack a ton of goodness!
Their Maple, Pecans and Coconut is made with rolled oats, pumpkin seeds, sunflower seeds, pecans, almonds, big flake coconut(unsweetened), real maple syrup, olive oil, brown sugar and a bit of sea salt.
The Cashews & Coconut was definitely my favorite and is made with rolled oats, pumpkin seeds, cashews, almonds, big flake coconut (unsweetened), real maple syrup, organic coconut oil, brown sugar, vanilla, a dash of cinnamon and a pinch of sea salt.
Currently they are in several stores on the East Coast or you can purchase online.  I'm hoping they will make their way to the West Coast soon!
Hudson Henry Bakery is so generous that they are offering one winner a bag of each of their delicious granola's!  Enter through the Rafflecopter below 🙂
After breakfast we headed off to Stroller Strides to get in a sweaty workout.  It began at 9:15 and by that time it was already over 90!  Luckily there was plenty of shade to workout in but I definitely got my sweat on!
We stopped by the farmers market to pick up some organic strawberries before heading home.
Love strawberry season!
When I got home I whipped up another quick smoothie/shake with a little added protein powder and the rest of my iced coffee from Stumptown.
So good!  I also snacked on a few unpictured raw Blue Diamond Almonds 🙂
As I mentioned earlier, The Love Nugget was quite the handful yesterday so lunch was quickly thrown together as he threw a fit about not wanting to eat his.  Oh I have a feeling the next few months are going to me fun!  Luckily he decided to eat some of his meal after I took a bite so I was able to eat mine.
Kale, baked organic chicken, tomatoes, avocado oil and nutritional yeast.  Followed by several bites of watermelon.  Can't get enough!
I spent most the afternoon trying to finish unpacking, cleaning and doing laundry while also entertaining my little guy.
Sticker collage, painting, helping with chores, dancing, playing with trains, and reading.  We did it all!
I also prepped a few food items that didn't get done Sunday.  Cut up veggies, watermelon, and roasted some Kabocha squash.  So I of course had to sample a few bites 🙂
With the heat a nice cool snack was sounding good a little later so I made us some banana froyo.
Coco Strawberry Banana Froyo
Ingredients
1 large frozen banana
3-4 fresh or frozen strawberries
1/4 cup unsweetened coconut
1 tbsp. Chia Seeds (optional)
Instructions
In a food processor, blend bananas and strawberries until smooth. If using frozen strawberries you may have to add a bit of coconut milk, yogurt or other dairy/non-dairy option to get it moving a little.
Add in coconut flakes and Chia seeds. Continue processing until smooth and creamy. Don't over process as it will begin to get soupy.
Serve immediately or freeze until later 🙂
http://myhealthyhappyhome.com/2013/07/03/wiaw-hudson-henry-baking-co-granola-giveaway/
We both loved it and I did even more so since it was topped with my new favorite granola!
Dinner was a simple but delicious baked salmon with coconut oil, sea salt and pepper along with roasted veggies tossed in lemon juice, olive oil and balsamic.
The salmon was amazing!  I believe it was a fresh caught steelhead salmon and it was so good!  I just spread coconut oil all over it, seasoned it with salt and pepper, then baked it at 375 degrees for about 15-20 minutes.  Super easy!
A little later I had some more watermelon because let's face it, watermelon during the summer is so good!
a Rafflecopter giveaway
Disclaimer – Hudson Henry Baking Co. provided me with two bags of granola to review.  I was not compensated for this post and all opinions are of my own.