Thank goodness we are finally starting to feel back to normal around here.  Luckily it was only a 24 hour flu that The Hubby and I came down with and after two days of laying low, are on the mend!  Since I haven't eaten much in the past few days, I thought I'd share what we ate at the Love Nugget's Birthday party with your today for WIAW.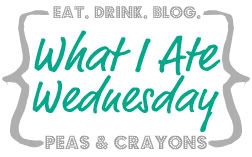 Make sure to head on over to Jenn's page and check out more delicious eats!
Okay so yesterday you saw all the details of the party, now let's take a look at the party food!

Like I said yesterday, we were exactly sure how many people were going to come but we planned on about 25+ adults and 12 kids.  There actually ended up being the perfect amount of food with just a few containers of leftovers.  How often does that happen!?!
We put all the beer, water and juice boxes in a wheel barrel filled with ice.
Then on the beverage station I put out a pitcher of iced green tea and a big beverage dispenser with some spiked strawberry lemonade make using Smirnoff Lemon Sorbet.
It was a hit!
To snack on while the main dish was cooking, I placed out some "chicken feed" which was just Chex mix.


I also set out a few buckets of kettle-corn on the tables.
The party started at 4:00 so we did Barbecue chicken, bacon wrapped quail (that they hubby shot on a hunting trip a few weeks ago), broccoli salad, Greek style potato salad, veggies, corn muffins and watermelon.
For the kids we made ants on a log, pigs 'n' blankets, and tractor PB & J's,

For sweets I put out some "tractor wheels" which were Oreo cookies, "hay bales" which were rice crispy treats and then my mother-in-law brought mini cupcakes she bought at a bakery.  Which I forgot to snap a picture of….
The Love Nugget was super excited about his cake and couldn't wait to dig in 🙂
He'd been asking for cupcakes for his birthday for weeks but I wanted him to have his own cake for at least another year.  Plus I wanted to make one that was a little healthier for him.  So I threw together this recipe that turned out to be pretty good!  It makes three small rounds but I only used two to put his cake together.  It's more of a muffin consistency and could easily be made into mini muffins or loaves.

Whole Wheat Mini Carrot Cake
Ingredients
1/2 cup Whole Wheat Flour
1/2 cup Pastry Flour
1/2 tsp. cinnamon
1/2 tsp. ground ginger
1/4 tsp. salt
1/2 tsp. baking soda
1/4 tsp. baking powder
2 eggs
1/2 cup coconut sugar
1/2 cup unsweetened applesauce
1/4 cup coconut oil
1 cup shredded carrots
1/4 cup soaked raisins
Frosting
1 cup organic powdered sugar
1/2 cup organic cream cheese
2 tbsp. organic butter
1/2 tsp. vanilla
1 -2 tbsp. organic whole milk
Instructions
In a small bowl, cover raisins with water and allow to sit for 30 minutes or so.
Preheat oven to 350 degrees and prepare pans by coating with cooking spray.
In a large bowl, mix together flours, cinnamon, ginger, salt, baking soda and baking powder.
In a separate bowl, stir together eggs, coconut sugar, carrots, and applesauce.
Add in coconut oil then coconut and raisins.
Fold in the dry ingredients and mix well.
Pour into prepared pans then bake for 35-40 minutes or until lightly brown and a toothpick comes out clean.
Allow to cool before frosting.
Frosting -
Soften cream cheese and butter then using an electric mixer blend together well with remaining frosting ingredients. Add milk 1 tbsp. at a time until desired consistency is achieved.
Add powdered sugar if too thin or more milk if too thick.
Frost over cooled cake or cupcakes.
http://myhealthyhappyhome.com/2013/05/29/what-we-ate-at-the-love-nuggets-birthday-party/
He was so patient when we put the cake in front of him and when we said it was time to sing Happy Birthday, he started the song off for everyone.  He loves singing that song!
He blew out his candle all on his own then carefully pulled off the toys and licked off all the frosting.
Very cautious about getting frosting and cake all over his hands!
He sat there for quite a while enjoying his cake while everyone else dug into the cupcakes.
And just to show you all that I'm human and enjoy treats from time to time, I enjoyed a few splurges…
Stella and carrot cake cupcakes that were oh so good!
That's it for our birthday party eats!
QUESTIONS – 
What's a favorite party dish that you enjoy making?  

Do you prefer to serve cake or cupcakes at parties? 
Have you ever tried quail?