Oh my gosh you guys I can't believe my little man turns two next week!
Seems like just yesterday we were taking his newborn pictures.  Time flies by so fast!
Anyways, with his birthday fast approaching I'm scrambling to get things done.  Normally I'm a fairly organized party planner but for some reason with this one I've been slacking just a little bit.  So… today's post will be a quickly so I can get moving with party planning!
Thanks to the lovely Jenn for hosting!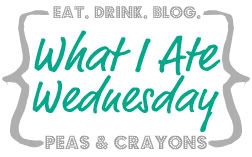 Make sure to head over and check out her yummy recipes and posts 🙂
Okay, a quick rundown of my Tuesday eats!
For a few months now I've been starting my morning with a tablespoon of Apple Cider vinegar in a shot of water followed by a cup of water.
I'm not going to lie, it doesn't taste great but if I don't breath between the ACV and the water I don't  taste it as much.  Then I have a cup of coffee to rid the taste completely.
A little while lately I had breakfast with The Love Nugget.
Coffee with coconut milk, strawberries, pineapple, sauteed kale, chicken sausage a fried egg and avocado.  Hit the spot!
After a run to the gym, boot camp, my challenge exercises, and a long walk home, I came home and enjoyed my newest favorite snack.
I know some of you are probably thinking, "dairy isn't Paleo."  Well, I realized that I had been overdoing it on my nut intake.  So I cut out all nuts, nut butter, etc. for awhile.  I decided to add in a little healthy, grassfed, organic yogurt as a protein packed snack.
Surprisingly by the time The Love Nugget woke up around 1:30, I wasn't very hungry.  Must be all the protein in the yogurt!  I made myself a small snack plate since we were heading out the door to run some errands.
While out running errands, we stopped by Costco for a few things and I found this Turkey Jerky I've been wanting to try.
Even though it has a little soy, it doesn't have a ton of other ingredients and uses evaporated cane juice.  Oh and it's delicious!
When we got home I had a handful of ginormous cherries from the farmer's market,
and my new favorite Kevita drink.
So good!
I munched on a few carrot sticks while making dinner.
I made Melissa's Cauliflower Rice (Mediterranean style).   I added a can of diced tomatoes and didn't use as much cauliflower.  It was really good!
I ended the night with a few more cherries.  So love that it's cherry season right now!
On another note, if you didn't get a chance to sign up for the Summer Ready Challenge we're only on day three so there's still time!
Just comment telling me you'd like to join in and I'll add you to the spreadsheet.
If you've started, how's it going?  Have you found it easy to squeeze in the exercises or hard?  Are you doing it all at one time or breaking it up?