Well hello Wednesday!
After our day yesterday, I'm ready for today.  Not that it was a horrible day, but I had a moment where I felt like the worst mom on the planet!  More on that later…
First, a big thank you as always to the lovely Jenn at Peas and Crayons for hosting!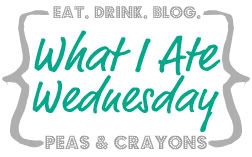 I made breakfast before the Love Nugget woke up and had our plates sitting ready to eat when I brought him down.  I was so hungry since I had gotten up at 5:00 to work out and he slept in until 7:30!  But… I had to hold off on digging into this,
Sautéed spinach, ham, mushroom, kambocha squash with an egg and avocado.  Yum!
Unfortunately The Love Nugget woke up quite cranky and with a fever.  I could tell he was uncomfortable and not feeling well but wasn't sure what from.  No cold symptoms and no flu symptoms so I thought maybe he had an infection from some soars no his feet.  After calling the doc and pretty much eliminating infection, I thought maybe he had a fever virus.   Then it hit me, he's almost two (next month!) and with the two year mark comes his last molars.  Sure enough, a tooth was jabbing through his gums.  Poor guy!  I gave him some Tylenol and he was his normal self within 30 minutes.  So we made a quick run to the Farmer's market and Whole Foods for a few staples including these babies,
Love me some fresh organic strawberries!  They are so big and sweet!  I might have even eaten a few on the drive home without washing them.  So good!
When we got home from our quick outing, I snacked on one of these delicious Coconut Lime Power Bites,

So good! I also had some green juice that The Love Nugget and I made yesterday.  Then I hopped on my elliptical while he napped.
Lunch was a garbage salad with mixed organic greens, grilled organic chicken, hard-boiled egg, tomato, avocado, beet, and artichoke hearts with a little lemon olive oil and lemon juice.
So good!
After lunch we took off to run a few errand since The Love Nugget seemed to be feeling much better.  However, toward the end of our trip he started going down hill fast and I felt so bad!  He looked so out of it and while he was still acting a little normal, he was also very lethargic and tired looking.  We rushed home to take his temp and some Tylenol again.  102.9!  Yikes!  Luckily Tylenol and some Thomas helped the fever and we ended the evening with a little dinner and green a green smoothie bowl.  Poor guy and wow, what an awesome mom I am!  I should have just stayed home and let him rest but no, had to get my errands done.  Lesson learned, I was panicked when I realized his fever was spiking again 🙁
While the hubby got him ready for bed, I snacked on some of these,
drank a glass of this,
and made a delicious dinner!
Horrible picture!  Someday I'll make a really cool light box like Heather has!
Steamed artichokes with Paleo dill mayo dip, Cauliflower garlic and herb mashed potatoes and this delicious halibut recipe!

It was such a delicious dinner and we were both stuffed afterwards.  The hubby even said, save this recipe for sure!
Night time snack was just a few of those delicious strawberries I mentioned above.  I've really cut back on my night time snack since eliminating sugar and I actually don't typically crave much anymore.  Such a good feeling not having the need to eat something sweet every night regardless of whether or not I'm hungry!
The Love Nugget slept pretty good last night despite one wake up yelling for water.  Which was strange but hey, I get thirsty sometimes too.  So hopefully he will wake up feeling much better and we can head to the gym for spin!
Have a great Wednesday all!
Oh, I still haven't heard from my About Time Giveaway winner so make sure you've checked to see if it was you!
QUESTIONS –
If you have kids, did they get fevers when teething? 
If you are a wine drinker, how many nights a week on average do you enjoy a glass or two?  
What was a favorite eat from yesterday?